Send Inquiry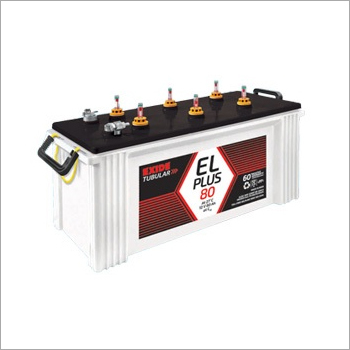 Product Description
Applications :
UPS System
Telecommunication Systems
Office Automation Equipment
Fire Alarm & Security Systems
Electronic PABX Systems
Cable Television Equipment
Electronic Attendance & Cash Registers
Process Instrumentation & Control
Railway Signalling
Power Plants & Substations
Cellular Phones (Base Stations & Transmitters)
Geophysical Equipment
PCO Monitors (Electronic)
The benefits derived are as follows :
The designed float life of Exide EL+ extends well beyond 5 years and on an average 8 - 10 years for EL+ Range.
The cyclic life of EL+ is also very high to the tune of 1200 cycles at 80% depth of discharge.
The low antimony content of the spines ensures a very low self discharge loss of the order of 1% of the 10 hour rate capacity per week at 25oC.
The combination of low antimony alloy and ceramic vent plug keeps the water addition requirement very low. A topping up frequency of once in 6-9 months can easily be achieved in normal operating conditions.
Technical Specifications :
Type

Capacity in Ah at 27oC when discharged for

Charge Current for Initial Charging Amps)

Approx. + battery Weight

Approx Acid qty at 1.220 Sp. Gr.

Overall Dimensions (in mm)

Constant potential Limiting Current (Amps)

Trickle Charge Current (mA)

10 Hr. 1.75 V/Call

10 Hr. 1.80V/Call (Conforms to BIS 13369)

Nominal Monoblock Unit Voltage (V)

Starting 2.35 V/Call

Finishing 2.75 V/Call

Filled With acid (Kg) +/- 3%

Liters /Cell

Length +/- 3mm

Width +/- 3 mm

Height +/- 3 mm

Minimum

Maximum

6EL40+

40

38

12

5.00

2.50

27.69

9.50

410

176

281

10.00

40

160

6EL50+

50

47

12

6.00

3.00

30.46

10.00

410

176

281

12.50

50

200

6EL66+

66

63

12

8.00

4.00

40.70

13.36

506

220

293

16.50

70

280

6EL80+

80

76

12

9.60

5.00

44.00

12.62

506

220

293

20.00

80

320
Other Products in 'Home Inverter Batteries' category